One of my favorite things is to take pretty pictures. I love sharing these photos here and on Instagram. I created a free ebook on how to style a flat lay and that was so popular, I thought I would share my 15 favorite photo shoot styling props for Instagram. These are items you can buy on a budget (from $5.99-$59.99) that will add that texture and depth to your image. I use these items over and over again-



Lacquer Trays from West Elm– these come in a bunch of sizes and colors. I love the white and I have them in two sizes. I use them ALL of the time to corral items and create a nice white cohesive look in my feed. These are $34.
Ikea Faux Sheep Skin Rugs– I love these because they are SO cheap ($14.99) and they add texture and warmth to an image without adding busyness. They soften the image while again adding the white that I crave for my images.
Instax Camera– I take a few pictures with this camera, but mostly its a fun prop! It adds personality and works on a shelf or a flat lay. If you look through my feed you'll probably notice it 30+ times. Totally worth the $55 (although I believe I received it as a Christmas gift).
Letterboard– I use this ALL of the time. It's the quickest way to get a custom message in a fun and current way. $35
Pink Ukulele– I taught myself how to play ukulele a few years ago, now it mostly is a fun poppy prop. I love to have a little pink, white, and or mint in all of my images and this checks the box for pink. Oh and Don loves it too 🙂 $40
Gold Stapler– whenever I post an image of my desk or a flat lay that at all has to do with desk items, this guy gets thrown in. Bonus points because I actually use it as a stapler 😉 $15.99
Pretty Books– I like reading design books, but bonus points for them being pretty! You will see them on my desk, on a shelf, being used to create height in an image. Pretty books are my favorite! I have a whole blog post with a dictionary of pink books if that's your color too. Shown in this image are domino $28, all in good taste $17, and absolutely beautiful things $20.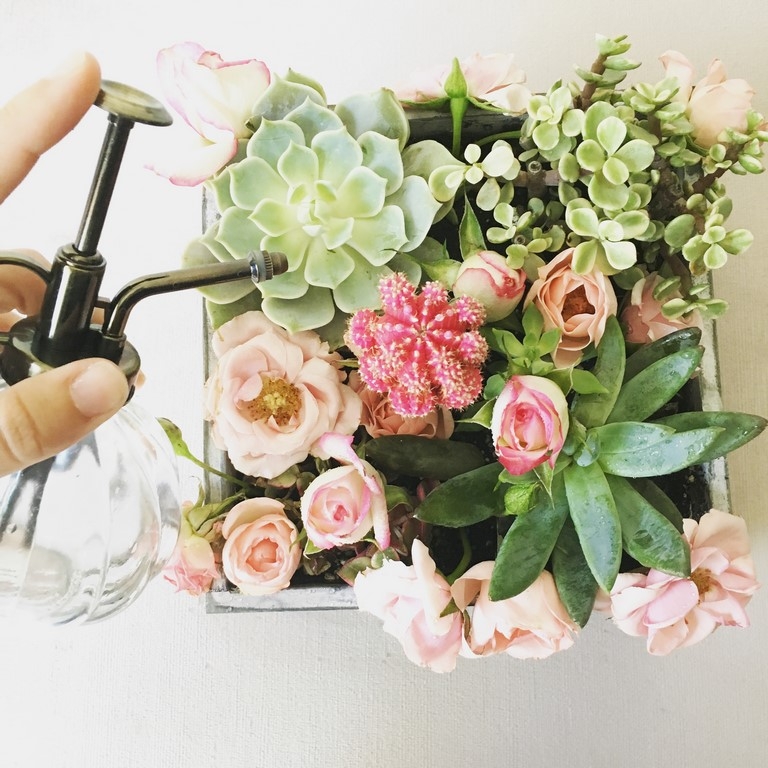 Plant Mister– I like to have a lot of plants and flowers in my images. To keep the photo from being just about the plants, I make it a little more interesting and dynamic by adding in this plant mister. $10
Modern Watering Can– For Christmas and my birthday I like to request items that I can use to make my house (and pictures prettier). I just got this for Christmas and I am in love. It's great functionally for watering plants, but it is also SO pretty. $27
Cute Mug- I have a small collection of cute mugs with fun sayings or pretty sayings. I like to get my mugs from Target. This Hello Gorgeous mug is my latest favorite. $6 and pink and gold #love
Gold Flat Wear– adding gold is obviously important to my Instagram formula (gold, mint, pink and a lot of white). The gold flatwear from Target is $2 a piece. Warning, don't wash these in the dishwasher or the gold will go away.
Lamp– A good lamp will not only light up your room, it will light up your images. But turn that lamp off to avoid yellow light in your image- haha! I love the Crosby Schoolhouse lamp from Target. Perfect in every way. $30- also available in black.
Alarm Clock– I have this bunny alarm clock from PB Teen and I love it so! I love a little whimsy in my images and it adds some nice pops of mint and gold. It's $59.
Pretty Drinks– I love having drinks in glass container for props. Sorry to ruin the magic, but I don't let anyone drink them and they sit on my shelf until the next time I need them- haha! I love Pellgrino, Perrier, and Dry Sparkling drinks. Go to your grocery store or World Market and buy the prettiest drink you can. And then never drink it ;). P.s. here's the link to the bar cart– it is also a prop stylist's dream. Here are all of the ways I've styled it.
Pillows– The perfect pillow will add texture and interest. I love these pink pillows from Etsy (again, they fulfil my need for pink in each IG image). I have a whole post on throw pillows I love here if you need a pillow in a different color. $16.99- they come in pink, mint, navy, green, or yellow. This is just a pillow cover- stuff with this Ikea $3 insert.
Gold Eiffel Tower Scissors– So this is the 16th prop I am suggesting, but I remembered it later and love it too much to exclude it! First of all, how cute are those scissors? Whimsy and gold in one functional item? Prop styling lottery 🙂 $5 and the least expensive item on this whole list. They also come shaped as a bird and Big Ben.
So there's my roundup! As I was reading over this post, I got a little worried it would be overwhelming. I started small and then for birthdays and Christmas asked for these items. I slowly acquired them and love having them to warm up my home. Stay tuned because later this week I will be sharing my camera equipment I use to take a good picture.

p.s. want a free course on how to style your accessories to look amazing? Click below to get your free ecourse!
please note, this blog post contains affiliate links