I believe what you hang on your walls should be personal and speak to you some way. It should tell a story about you and the life you lead (or dream of leading). Do you want to know the best part about this individualized type of art? Its super cheap to do! I am going to show you 5 ways to surround yourself with custom that's affordable.
Letterboard quotes. I love a good letterboard and change the quote on mine every few weeks. It will read my favorite quote or song lyric. It can be funny or sweet. Pretty much it can say anything you want it to! So there are super expensive letterboards on Instagram that are beautiful, but you don't have to pay $70 for a letterboard! The one I got off Amazon is $35 and pretty much perfect. It comes with letters and everything! Another fun alternative to this is a light box.
Frame a memento. Lately I have been working on my bedroom and am adding some finishing touches. My husband is a HUGE football lover so I am finally doing something to celebrate that! He had tickets from so many years of going to games that I finally framed them. I bought two Ribba frames from Ikea. My husband actually laid out the tickets and I just glued them down. Simple! You can frame pretty much anything- christening/blessing dresses, medals/medallions, keys to your first home, your grandma's jewelry, your baby's first shoes. If it's special to you and smallish, put it in a frame!dog art / city art set / triangle art / adventure art / flower art
Celebrate your pet. I am a big dog lover so I framed a silhouette of their breed- which I think is a subtle way to do it. Search Etsy for the breed of your pet and you'll be blown away by how much cute (and affordable) art you can find.diana camera / usa art
love / desk / bike /  tape / lamp / triangle art / abstract art
Location specific art. One of the most popular pieces of art in my home is the USA map art with Utah filled it. No matter where you are from, I promise you can find beautiful art that features it. I love this series of gold foil states on Minted. I also love this artist's quirky location prints. sconce / salt water sandals
Daily snapshots/Instagram art. If you love Instagram as much as I do, that means you have a bunch of beautiful photos of your everyday life on your phone. Print them out and frame! I have lots of ideas on this post here.
Now that you have some ideas on WHAT to hang, I'm going to show you the proper height to hang it. I see all of the time art that is hung too high. Unless you're over 6′ high, you'd never see it. So here is my suggestion for hanging height- it should be 57″-63″ off the ground. Choose a height in that range and stick to it throughout your house. The beauty of having a standard hanging height is that it'll help your home look uniform. Hanging art lower will also help it closer relate to the furniture around it which creates a more cohesive look.
I hope that I've left you with some inspiration for adding custom art to your house! There is something special about being surrounded by art that speaks to your passions and dreams and ideals. If you are smitten with a certain thing, frame it! And then hang it so that you can enjoy it.
As you can see, I really love adding customized pieces to my life. I'm a sentimental girl and like to be reminded of what I love best in my life. I recently got the most gorgeous set of 3 finespun birthstone rings from Lisaleonard.com.
plate / gold flatwear /
I put my son's, my husband's, and my birthstone in each ring. I cherish it and wear it everyday! These are dainty and perfect for stacking. I got mine in the 10k gold option, but they also come in sterling silver. Why am I telling you all of this? 1. I thought you'd love them as much as I do! 2. I am doing a giveaway on my Instagram right now for a set of three (valued at $240)! So hop over and enter!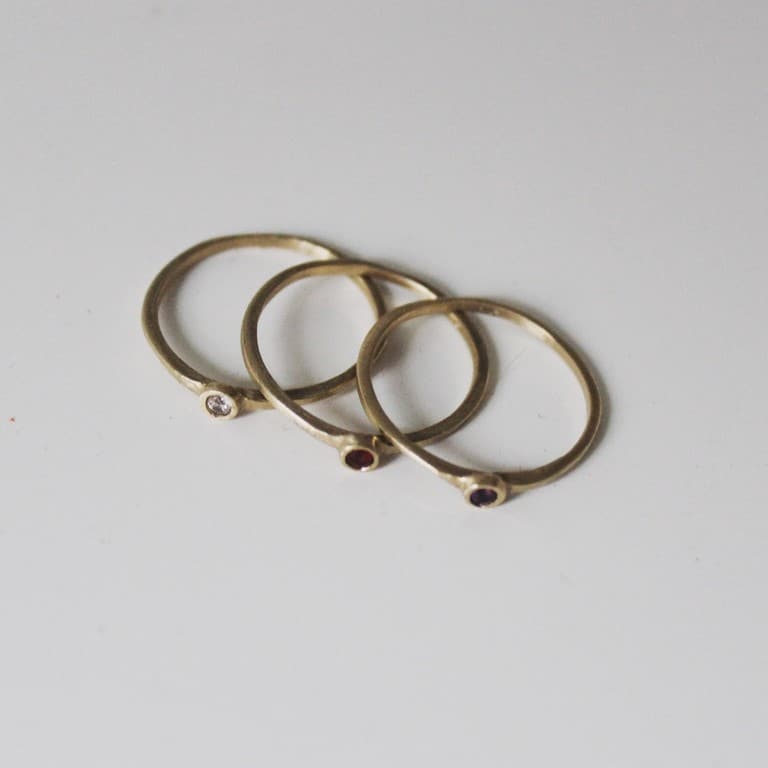 Shop the post-
[show_shopthepost_widget id="2559812″]
p.s. want a free course on how to style your accessories to look amazing? Click below to get your free ecourse!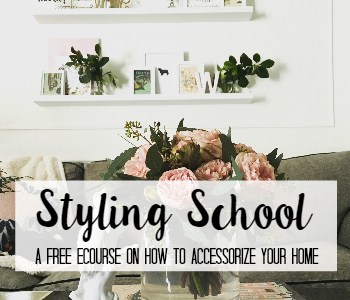 This post was sponsored by Lisa Leonard Designs. This post contains some affiliate links for your convenience. Click here to read my full disclosure policy.