Have you heard of the site Apartment Therapy? I like to visit the site for gorgeous, small space ideas, but when I heard about the back story from the founder Maxwell Ryan, I was blown away! I love decorating for the pretty reasons, but he presents the idea as your home surrounding being therapy and taking design and presents it as important for how we live and thrive. Maxwell Ryan recently did an interview on the Chris Loves Julia podcast (episode 33) where he tells why he started the site- it's a great listen! Here is a summary of the part that I couldn't stop thinking about- originally he was a teacher for the Waldorf school (a school that emphasizes the role of imagination in learning, and the intellectual, practical, and artistic development of pupils) and part of his job was to visit the children's houses to meet with the parents. The Waldorf school impressed upon him that environment is important in how we grow- the school walls were painted different colors based on what age the children were, they used different thickness of pencils based on age as well (thicker pencils for younger students). What he found with the home visits is that the home effected the children in the classroom. He says "the ones that did best, came from the best homes." That it wasn't a rich or poor thing, but the parents that were able to take care of their home, having it tidy, organized and well lit- their kids did better at school.
record player / record /  boots / drapes
Is that interesting or what?! That making your house a happy place isn't just vain, but important to your child's growth?!  And if it helps your child in school, won't having a well-kept house help you in life too?! I really like what they say on their site's about page:
A calm, healthy, beautiful home is a necessary foundation for happiness and success in the world.

Creating this home doesn't require large amounts of money or space. It requires inspiration, connection to resources and motivation to do something about it.

The basic elements of good home design can be learned and achieved by all.

Simplicity and luxury are not mutually exclusive."
I love that! I've since done a lot of reading into suggestions that Maxwell Ryan has into creating the best home environment possible and I wanted to share those with you. So how can you make your home a therapeutic place? Pay attention to your entry, fill your home with light, and avoid clutter.
Entry
Create a "welcome home" spot. Every home benefits from a hospitable entry that conveys calm and order while also keeping unwanted and unnecessary stuff from creating disarray in your home. Your "foyer" should include the following…

-A doormat for wiping shoes (and I suggest taking them off).

-Coat hook or tree to hang outerwear, bag, umbrellas, dog leash, etc.

-A flat surface (I call it a "landing strip") where you can lay down your wallet, keys and sort the mail. This can be a small table or bookshelf. If space is very limited, look for a shelf or photo ledge to mount directly on the wall.

-Basket for recycling. This makes it easy to dump unwanted mail at the door.

– See more at Syndicate.details 
desk / letterboard / LOVE / instax camera / diana camera / abstract print / bike
side note, I love this letterboard! And it's super affordable!
Light
Spaces feel smaller when they are dark. Lighting is really important, and most people have homes that are underlit. There should be at least three points of light in every room. Mirrors are also great for reflecting light and allowing your eye to travel through the wall, making your space feel larger."

See more at The Washington Post
I like the further detail he gives in this interview about how to use light successfully-
Use at least three light sources, of varying heights, in every room. One should be low and indirect (like a table lamp). A second could be a standing floor lamp, which is space efficient and great for reading. Your third source could be a pendant, which both illuminates and adds visual depth to a space. Use only incandescent or the newer warm LED bulbs for electric light and switch to candles when you don't need as much.

– See more at Syndicate.details 
Clutter
Most clutter is generated the moment you walk through the door with your bag, cellphone, mail, shoes, coats, keys. To handle this, create a landing strip: When you come home, everything gets parked as close to the front door as possible. We take off our shoes outside the door. We have a little closet that we keep clear to hang coats and hang bags. Each of us has a shelf next to the door for our keys and phone. Mail gets sorted immediately, and junk mail gets put in the trash.

Space needs to breathe: It needs to be open and airy in order to feel good and comfortable. Paring down and simplifying are essential elements in a space. Don't think of it as punishment; think of it as the creation of new opportunities.

See more at The Washington Post
Conclusion- are you as inspired as I am? I love the idea that having a beautiful, well kept house is a benefit to your life! I also appreciate the clear cut, actionable tips he gives. I know reading these ideas has helped me want to have cleaner house. What are your thoughts on the idea of treating your home as a special place that can help you in life?
"Your home is your launching pad," Mr. Gillingham-Ryan said. "If you have a healthy, beautiful launching pad, you will succeed in everything you want to do. If you have a corrupt and unhealthy pad, the second you walk out the door you're at a disadvantage." – New York Times
Shop this post-
[show_shopthepost_widget id="2544928″]
Photos from this post are from the super talented photographer Ali from Alexandria Cherie Photography.
p.s. want a free course on how to style your accessories to look amazing? Click below to get your free ecourse!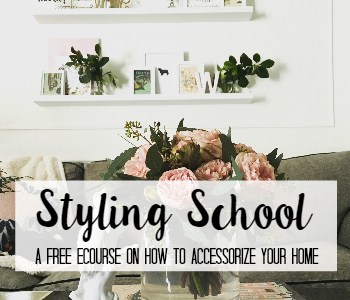 This post contains some affiliate links for your convenience. Click here to read my full disclosure policy.