I have loved my dining room for awhile. Well, at least the main parts- the chandelier and the black chairs. But have been itching to change the parts I don't love for awhile!
The table is is one of those things- it is actually a hand me down. When we were first married, we moved from a small apartment to a larger apartment with a dining nook. We needed a table so we borrowed one that my parents had in storage. It actually belonged to my grandparents before that! It has served us well for 9 years. The legs are a pain- they stick out and are a tripping/ toe stubbing hazard. They were probably a shiny gold at one point, but are now covered in rust marks. The top is a faux marble, but it's chipped and so it usually is covered with a table cloth. I found a picture that shows how old the table really is- this is me at age 1! I grew up eating off this table!
The table it super tight when we want to seat 6, and for sitting 3 like we usually do, it's a little big. I've long dreamed of having a round table that expands with a leaf for our dining room, and I finally took the plunge and bought one! I fell in love with the Owen Extending Pedestal Dining Table from Pottery Barn.
I found it at my local Down East for $300 in super good condition. It feels SO nice to have a table just for our family that works for our needs! I am still dreaming about redoing other aspects of the room (maybe some statement wallpaper, maybe some built in shelves, definitely a rug), but for now I am excited to have a new table! 
Tada! I set it up all pretty for Christmas!
I just got that "Let it Snow" banner from West Elm on sale for $14!
I decided to set the table so it'd look pretty, but I'd forgotten the details of how to set a table and how to look it up. I made myself an infographic so that I'd remember it next time. The funny thing about forgetting is that I used to be a wedding planner and would set hundreds of place settings in a day.
Our chairs are from Pottery Barn and discontinued. We got them 8 or 9 years ago. They came with muslin on the seats and I always meant to redo them. One is ripping so I better get around to it!
I got a few plates from Anthropologie for myself on Black Friday. They usually hang on the wall, but they are so pretty I thought they'd be perfect for this table!
Speaking of dining in style, I wanted to tell you about Gold Leaf Gourmet– they are a company who delivers fancy dessert kits to your house. To me, holiday time means baking time so this was a really fun project to try! I had a party to go to where I was in charge of finger food desserts, so I choose the Mini Key Lime Pies. The kit arrived at my house nice and cold. I needed to run to the store for a lime and heavy whipping cream and then I was good to go! I mixed the filling and then put them in the little tartlets and let them set in the fridge. I then whipped up my own whip cream- which I had never done before and felt so fancy! I piped them on with the provided bag and tip.
I finished the pies off with lime zest and the cutest white chocolate decoration.
I let Don sample one and he loved the cream- haha!
The kit came with 27 mini pies which we brought to the party. I felt so fancy that I had brought a gourmet dessert and everyone loved them! My favorite parts is that I got to try new techniques and make a dessert I'd had never tried before, and I got to impress with my desserts! Win win!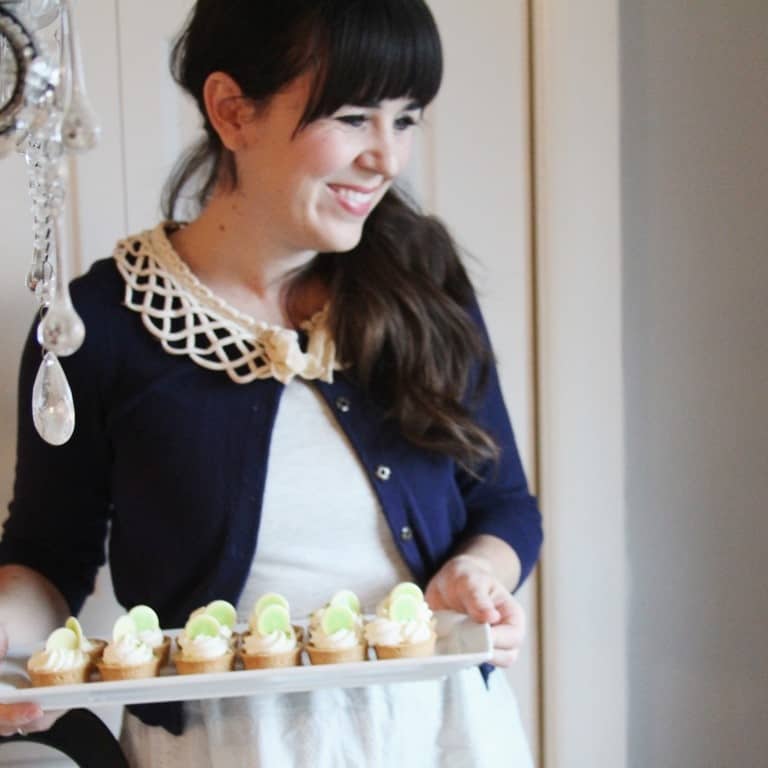 So if baking is on your to do list too, make sure to order by 12/20 so you can get it by Christmas. Honestly though, this would be great for New Years, Valentines or any party!
p.s. want a free course on how to style your accessories to look amazing? Click below to get your free ecourse!
this post was sponsored by Gold Leaf Gourmet.  All opinions are my own 🙂