Hi Guys! My entry is coming along! If you remember, last week a small portion of the floors were taken out. Last Monday, we had a floor party aka my husband broke up the floor while I played with the baby. We all helped with the cleanup.




The sub floors were sloped and had some grout on it that we couldn't get up, so those were pulled up and replaced (but before we could see into our neighbor's basement- see that huge crack below?!).
Then came the fun part! My husband laid down the underlayment and then slowly, the floors. There are a lot of corners down there so he took his time and got them in. The wood floors are now down and looking excellent!
The next step was for me to paint the trim. Let me tell you about the trim- when we first moved into our condo years ago, I was set on making it mine. Everything was beige- the trim, the walls, the floor. It was pretty blah. So, of course, I went in the opposite direction and went bold and painted the walls grey and the trim black. It went from blah to cave-like. But at least it was mine. So having to repaint the walls and trim now, 5 years later makes be feel like I made a mistake. That I choose the wrong colors. And maybe I did, but do you know what? I am SURE 5 years from now I will be sick of what I am doing right now and switch it up again. And that's ok. Do you know what is worse to me than changing my mind? Being stagnant. I am making progress. I am figuring out what I like and what I don't like in the only way I know how- through trial and error. And I think that by doing the work when I would rather be napping or surfing the web makes me a better designer. So that is what I am thinking about as I am sanding down the black trim and painting it over with a hundred coats of white paint. I am thinking about how far I have come and that just because I am changing my mind now doesn't make me any less of a designer.
Last week I had a really ambitious list of things to do- rip up old floors, lay new floors, paint trim, paint doors, paint adjoining wall. Needless to say I didn't quite get there. It was a busy weekend and we got a TON done, just not everything. But it's getting there! Here is where we are now:
I have my fingers crossed that next week I can show you a finalized space! It might not happen (just being honest)- here's my to do list to get there:
remove nails from baseboards (we are resuing the old ones)
sand baseboards
paint baseboards
install baseboards
install corner round where needed
third coat of paint on banister
second and third coat of paint on wall by the garage door
find and buy a console table
decorate, hang mirror
I bought the mirror and a rug for the entry. Mats and frames are ordered an on their way for some gorgeous art! I am having a hard time finding the perfect affordable console table, but hopefully I can locate one. The decorating is going to be so fun- I can't wait to get started on it!
Check back next week to see how it's going. Also, if you want notifications when I post, just follow me on Facebook!
Here are some other posts you may be interested in: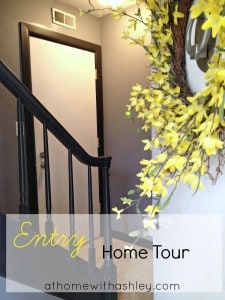 The before of the entry. Including a video!
How to Style an entry with images of gorgeous entryways from Anthropologie

The mood board for the space with sources and my big plan!
How I choose the wood floors for the space 
And the trim I put up in the entry

p.s. want a free course on how to style your accessories to look amazing? Click below to get your free ecourse!