my top 9 liked images in 2016
Hi guys, I am having an Instagram week over here. If you aren't interested, hang tight and next week I have a fun home decor reveal for you! I started my Instagram account in September of 2015 from 0 followers. I took images with my iphone and was very proud of them. I remember going to a blog conference in February (just 5 months after I started my blog) and a girl was looking at my images and telling me how good they were. It gave me such a boost of confidence! It was the first time I thought I might be onto something with this whole thing. I kept working on my Instagram and focused on getting better images. In the summer of 2016 my sister gave me her fancy camera as an investment in my little blog. It was beyond generous of her! Since then I have been using it and been trying to up the quality of my images. My Instagram audience has grown from a few thousand to over 49k in that time and I think some of that has to do with the images, right ;). I wanted to go over the equipment I use to get my images in case any of you are out there trying to do the same-





Camera– My sister gave me this camera and I have been loving it! Confession- I still mostly shoot in automatic. One day I'll fully learn how to use it. Even in automatic mode, I find the images beautiful and professional looking and would recommend it to anyone.
Lens– My sister also gave me the lens. I love using this one (not the one that came with the camera). It has a better zoom and helps stabilize the image. It produces natural looking images and is good for a variety of shots.
Blogger Lens or the Fifty Nifty– my newest investment is the 50mm lens. It was around $100 and worth every penny. It takes super clear and sharp images. It doesn't zoom in and out, but I am obsessed with it for close up shots. It's also light weight so it makes your camera smaller and easier to carry around. If you are wanting a lens for blogging, I'd suggest starting with this one.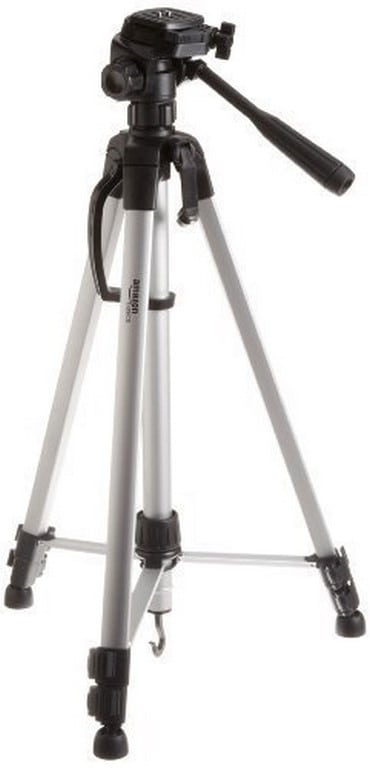 Tripod– Having your camera level and not shaking is super important to a clear image. I got this tripod of Amazon and love it! It folds up super compact and is easy to use. I've used it for flat lays and images of myself and my home. I definitely recommend it! $22
Timer– I've slowly been incorporating more images of myself in my Instagram feed. To do that I used to wait until my husband was home from work. Since we only have a few hours once a week when there's good sunlight, it was a pain. For Christmas I received a timer that connects to my camera. I now just press the button on the remote and can take the classiest selfies ever! I use this with the tripod and love it! $17
Tethering Cord– I've been on a lot of professional photo shoots. One quality that sets the pros apart from the amateurs is the tethering cord. What this does is connects your camera directly to your laptop so you can see image nice and large. That way you can make tweaks based on the image on the bigger screen. This will help you get the perfect image because you can better see the imperfections. $8
WiFi SD Card– When I first starting taking pictures with the fancy camera, I'd get frustrated at the process of downloading the images on my camera, email myself my favorites, and then Instagramming them. I finally figured out that you can get an SD card with WiFi on it. So you can wirelessly upload the images right from the camera to your phone and then Instagram away! It's SO convenient. Such a time saver. I love this game changing tip!
Lighting- I don't currently have any special lighting for my home because it gets such nice sunlight! However, I do make sure all of my lights are off when shooting pictures to avoid yellow/warm photos. I also open my drapes as much as possible and wait until its a nice sunny day.
So there are all of my tips on how I produce my Instagram images! I still do my editing in Instagram's app. I go over full details on how I edit in my free ebook on Flat Lays. Let me know if you have any questions!
p.s. want a free course on how to style your accessories to look amazing? Click below to get your free ecourse!
please note, affiliate links were used in this post