We bought our condo in 2009 and I was so excited to make it mine- after a few years of renting, having a home to decorate was a dream! So I quickly painted everything from beige to grey and put up the black damask curtains that I loved and was happy with my little condo that was just how I wanted it.
Well, fast forward 6 years and I am sick of those curtains. The funny thing isn't that I kept them so long (they were dated and past their prime for a while) it's how I noticed. We put Don in his high chair for the first time and were feeding him his first big boy food and I was taking pictures like the obsessed mom I am.
Later I saw the pictures and saw how the damask curtains were too much and clashed with the fabric on the high chair cushion and thought "these have to go!" Luckily, I had a back-up option. When I bought the curtains for Don's room, they came in with some runs in the fabric. I loved them besides that and contacted Wayfair who quickly sent us new ones and said we could trash the old ones. So, I stashed them in the closet and completely forgot about them.
Well, I pulled them out the other day and put them up and really like them (and the runs aren't that noticeable)!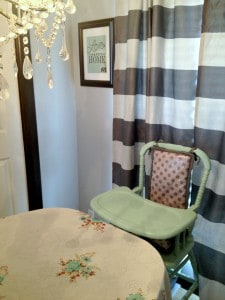 The room feels a little less busy and fresher, so I am happy with that! So, the moral of the story (besides don't buy super trendy curtains and expect them to look current for more than 5 years) is to pay attention to your pictures! They have a way of helping you step back and look at something with a fresh perspective. If you are constantly moving something out of a picture maybe that is a clue that it needs a makeover. If you hate your dirty carpets and they are taking away from the subject of your picture (sadly, that is also me), get them cleaned! This is me giving you permission to get rid of that thing you hate that you have or the inspiration to take the 20 minutes to deal with the issue. My mom recently told me she hated a tile duck wall hanging she has had in her kitchen for the past 30 years and I was like "yeah, that thing has seen better days, get rid of it!" I think all she needed was a second opinion to let it go. If it's still hard, something that I learned from the book "The life-changing magic of tidying up"* is that as you give something away you can thank it for serving you. I know that it sounds a little silly, but sending a piece that has been in your life for a while off with gratitude takes off some of the sting. And so, here's my little push for you to let whatever you need go. I promise you'll be happier because of it. So… what's that one thing that you are going to change that has been bugging you?
p.s. my friend gave me a teeny tiny vase from Japan and I kept it for the one day that my little guy will pick me flowers (preferably Dandalions). Ha! Did you ever do that for your mom? I had a bunch of flowers and these were the only un-dead ones. So, the mini vase was perfection.
*denotes affiliate link
p.s. I'm thinking about getting these pillows from Etsy. Aren't they so cute?!