I have loved the quote by William Morris for a long time (since I studied him in collage over 10 years ago)! It goes "Have nothing in your house that you do not know to be useful, or believe to be beautiful." I will take it a step further and say if you have to have it in your house, it might as well be useful and beautiful!
Sadly, I had fallen away from this. Life had gotten too crazy! I was pregnant, working full time, living on a super tight budget and sooooo tired. So I let ugly things creep into my life that we used, but were ugly. A few weeks ago I was looking at my house critically and decided that the ugly things had to go! Here are two before and afters as examples:
Number one– in my bathroom I had bath salts and bubble bath out (that I frequently used), but were SOOOO ugly! I had to make an Ikea trip so I picked up a few glass containers while I was there. I soaked them in hot soapy water to get off the labels, dried them, transferred over the plastic containers, and smiled. That was better!
Number 2– In my kitchen we keep some items on our table always because we use them daily. The butter dish and salt and pepper shakers are pretty, but the cajun seasoning (my husband loves that stuff) and my prenatel vitamins are not pretty. So I bought a few containers at Down East Home (the shaker is originally from William Sonoma and the canister is from West Elm) and out with the old and in with the new!
Might as well use the pretty new things as an excuse to re-do the styling on my dining room table!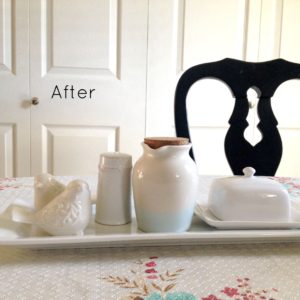 So here's my challenge to you. Walk around your house and re-look at the items you use in your house (that you can't get rid of because you use them frequently). Ask yourself, how can I make these prettier? When you are at your grocery store or Target or Walmart or even the thrift store next look for new containers that will replace the ugly old ones. I promise, little changes like this make a difference! It will help your home feel more personal and pulled together- and it's pretty cheap to do it too!