Once you have your piece of furniture home, you're going to want to do any structural alterations necessary to the piece. This will be different with each individual piece of furniture. For ours, my husband took off the top and attached it to the back and it immediately looked more kitchen like. It is nice and low so Don can access it. 
Now is the time to prep your piece of furniture for paint. This may mean sanding or using a primer, based on the material of your furniture piece. Since I was working with laminate, I applied a coat of Kilz primer. If it would have been wood, I would have sanded.
I did two coats of the primer…
We're finally getting closer to the fun, pretty part! It's now time for you to paint your furniture the final color it will be. Our play kitchen will mostly live outside, so I then did a coat of outdoor deck paint (to help protect from the weather) and finished with a coat of the white paint from my living room (Delicate White from Lowes). I liked the idea of the play kitchen to coordinate with the rest of our home.
If you are wanting a two tone kitchen, these instructions are for you! Since paint is one of the cheapest ways to add personality, I think this is a fun, inexpensive option (especially if you have the paint already).
I painted the bottom of the kitchen a mint color I had on hand from my son's crib and high chair (Martha Stewart Sea Glass from Home Depot- the paint line is discontinued but they can mix it with Glidden paint). I used painters tape to section off the two colors. I used a credit card to seal the tape and I was amazed how little bleed I got!
The next step is to add in the important accessories. The hard part with this step is the budget- the cheapest faucet option I could find was $17. Since I have a $60 budget for all building materials, I needed to get creative. Do you know someone doing a remodel that can donate their old one? Do you have a Habitat for Humanity Restore in your area? They are a thrift store for building materials and are all across the United States (here's a link to the location finder). I went to the Habitat for Humanity Restore in Salt Lake City. I found an old Kohler faucet that I liked and went to pay for it. The cashier said I could have it! High five for a free faucet!!!
With a free faucet option, it might need some cleaning up. Mine had some major build-up, so I put it in the sink with Lime-away and it is now looking much better!
The next accessory to add is the stove burners and oven door. Wood circles work nicely for burners. I used chalk paint for the burners ($1 wood circles from Michael's) and for the oven door. Note, in hind sight I should have used more sturdy circles. The ones I used were super thin and warped. I suggest thicker ones like this (only $3 each)
To classy up the cabinets, I decided to add some trim. Michael's has some great craft trim options. I spent $5 on trim and added it to the door and sides.
I used the miter box and saw I had on hand, but if you are doing a small project like this, Michael's had a great option for $5! (here's an option from Amazon)
I used a beaded trim on the sides. I love how classy it looks! I adhered all of the trim with liquid nails. These details really added some charm and character and where you can let your personality shine through!
Next step- start assembling your accessories that you have been collecting! We installed the faucet and put in hinges so that the over door opens like an oven.
You can also use Liquid Nails to adhere the oven wood circles (aka, the burners)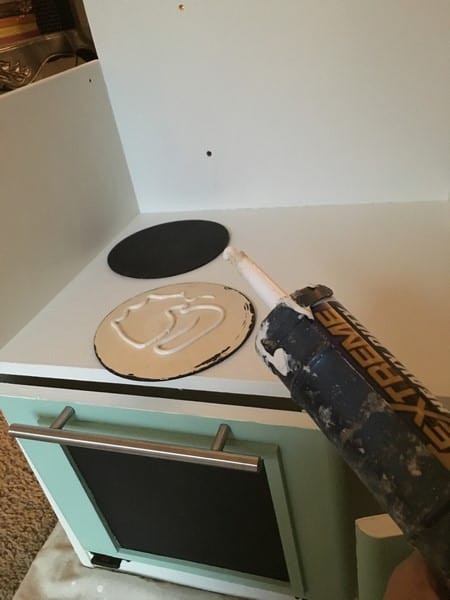 If you are worried about your paint job getting scratched up, you might want to give the whole piece a clear coat. I gave it three coats of the clear coat. Note, the faucet was wrapped in plastic to protect it.
If you are wanting a back splash for your kitchen, I found a really fun, inexpensive option that's easy to install! At The Home Depot I bought some $0.89 squares of linoleum stick on tiles. I love the faux carrara marble look! Here's an option on Amazon.
I cut them down to 2″x4″ rectangles and will install them to look like subway tiles

I cut them with a paper cutter I had on hand. It was nice and fast. I had to rip the paper backing because the paper cutter couldn't make it all of the way through, but it was still an efficient way to cut the tiles. This paper cutter is similar to the one I have (and love)
The tiling was fast and fun! This project was coming along super quickly now! This part was super fulfilling :). It was also the element that pulled everything together and looked polished. Update- I have had to since go back and glue down the tiled because a few fell off. If you go this route, I'd suggest gluing from the beginning :). I used liquid nails to secure them.
I also attached the sink with liquid nails and it has held up really well.
Now, your main elements of the kitchen are in place! It's time to add in the smaller details!
I bought a spice rack from Ikea. I painted it white and screwed it onto the black splash.
And now, for the reveal photos!!!  and some more small detail ideas for you!
Didn't it turn out cute?! I am in love!
We added these Ikea pots and kitchen utensils. I put in cup hooks under the rack to hold his cooking utensils
I found oven replacement knobs on eBay for $7.80. We put on three- two for the burners and one for the oven. I have seen simpler oven knobs on other play kitchens made of wood, but I love the realistic version.
I added a finishing detail by sewing Don a little matching kitchen towel with fabric I had on hand.
I was at Anthropologie one day and there was a 40% off clearance sale. They had the cutest kitchen timer. I snagged it at $2! You can get the same timer on Amazon too!
I found a play tea set from Down East Home (a store that sells Pottery Barn kids items for discounted prices). It was on sale for $8! Here's an available option. I love that these are stainless steel so they won't break with little hands.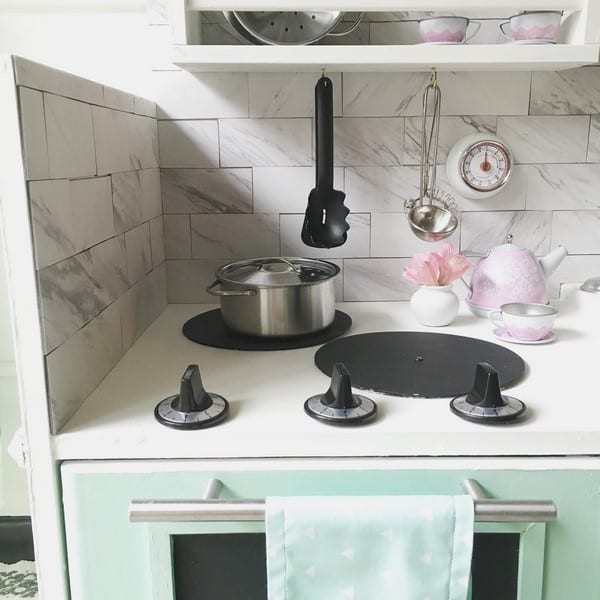 The color wasn't perfect, but I figured I could paint it. It's actually hard to find non-breakable gender neutral play dishes! I ended up loving the color with the play kitchen. So what if my little boy plays with pink dishes? Maybe I'll paint it down the road if it bothers us.
My dog Lucy is a fan too… Haha
The best part of this project is how much my son Don loves it!
I think this will be a toy that grows with him. He loves opening and closing the doors and moving the faucet handle. He thinks the oven door is the BEST little step stool!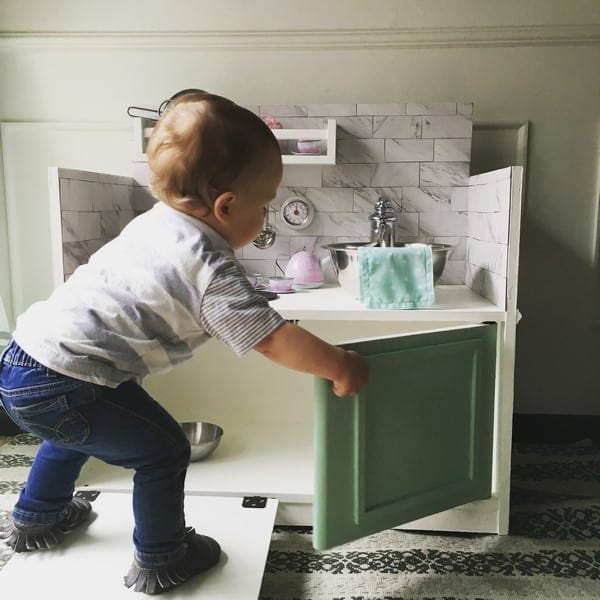 Don's Moccasins / These are my favorite little jeggings
When he is older I can see him actually playing pretend more with it. At that point I will add an apron, play food, hot pad, and an oven rack. For now it is good and we all love it!
Budget Breakdown:
Building Materials
Entertainment Center- $10
Sink- $1
Tiles- $4.50
Oven Knobs- $7.80
Oven Burners- $3
Trim- $5
Oven Pull- $6.75 (from Ikea)
Faucet- Free!
Spice Rack– $4
Hinges for Oven- $2
Building Materials Total: $44.05
Accessories:
Tea Set $8
Pot and Pans $10
Timer $2
Accessory Total: $24
Total: $68.05
In conclusion, with some elbow grease and imagination you can too create a play kitchen you and your children love! And on a budget! Isn't it fun that you can make something custom that matches your home?! You can do it!

Shop this post:
Thanks for following along!
p.s. want a free course on how to style your accessories to look amazing? Click below to get your free ecourse!
How to make a play kitchen from a $10 piece of furniture. Please note, affiliate links were used