Hi friends! I am a avid blog reader and I always LOVE reading how much the budget was and what the bottom line ended up being, so today I will let you know how much my kitchen renovation cost.
First up, one of my favorite things to do after completing a big project is to have a party to celebrate. We'll be having friends over, but first we had a party just for our little family to say thank goodness we no longer have to work on this thing- haha! Oh and that we don't have to eat out every meal (that gets old with a 2 year old)!
stove / tea towel / hand vase / peony art / small knobs / long pulls / tile / quartz / cabinets
I'm a girl who's all about the appetizers so I pulled out some ranch dip and made a salsa/cream cheese dip. I paired it with some vegetables and Harvest Snaps.
gold vase / pineapple cutting board
If you haven't heard of them, Harvest Snaps are flavored lentil bean and green pea crisps that come in lots of different flavors like wasabi ranch or tomato basil (my favorite). They have 40% less fat than potato chips and are a good source of fiber and protein. Oh, and they are delicious on their own or dipped. You can get in a variety pack on Amazon or here's a link so you can find at a store close to you! I love that they are super delicious, but still way more healthy than normal chips. We had a lovely night celebrating our newly finished kitchen especially since Don is all about that dip!
gold vase / hardware / faucet /  candle / window shade / sink /  tile / quartz / cabinets / peony art / pink rug
how much my kitchen renovation cost?
$3,501.45 Ikea Cabinets and cabinet accessories
$1500 Quartz Countertops, sink, and grid*
$1,033.26 Hardware Store purchases- drill bits, tiling supplies, screws, beadboard for the ceiling, trim, etc.
709.98 Stove *
$340.98 Lights*
$275.08 Decorative accessories- cookbooks, recipe holder, fancy soap, etc.
$252.49 Faucet*
$243.00  Art*
$241.66 Hardware for cabinets*
$122.00 Subway Tile*
$89.00  Window shade*
$80.87 Rug*
Grand Total: $8389.77
stove / tea towel / long pulls / tile / quartz / cabinets / pink rug / Valencia Dress
Note, for the items with an asterisk, I received the item at a discount or for a trade for posting about them. I wanted to share the full price so that I could give an accurate total for what everything cost. I paid closer to $6400 for the renovation. I shared my expected budget of $5000 here, so I definitely went over that. I budgeted $1200 for cabinets and they ended up being $3500 (hahaha- I was so sweet and naive). I didn't account for all of the hardware store purchases that added up quickly to over $1000. I also forgot to budget for the decorative accessories which really pull everything together at $275. Hopefully, if you are doing a kitchen remodel these items I forgot will help you budget wisely. Even though I went over my unrealistic $5000 budget, I am THRILLED with how everything came together! We didn't cut any corners and it's really our dream space.
soap / window shade /  cake stand / pineapple cutting board / white & gold dishes / abstract art / The Year of Cozy / Eat Beautiful / bike /  shelves / tile / quartz / gold vase
Thank you for joining me on my kitchen party and budget breakdown! Please let me know if you have any questions in the comments! Here are links to past kitchen posts:
Week 6 The Final Kitchen Reveal
Week 5 (when I pretty much realized we wouldn't finish up on time)
Week 4 (the middle part)– Plus I give tips for what to do when you're overwhelmed with a project
Week 3– Everything you need to know about quartz countertops
Week 2 I got my cabinets from Ikea. Here's how that came together

Week 1 How I prepped my house for the kitchen renovation
The inspiration and why I was scared to start this HUGE project
p.s. want a free course on how to style your accessories to look amazing? Click below to get your free ecourse!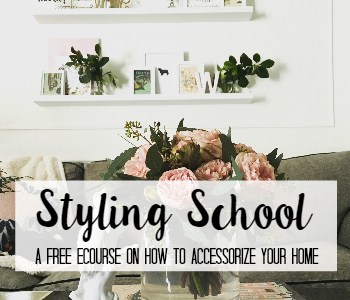 This post contains some affiliate links for your convenience. Click here to read my full disclosure policy. This post was sponsored by Harvest Snaps all opinions are my own.