Hola! I just got back from a trip to Mexico with my husband and baby and wanted to share some things I learned that I haven't seen anywhere else.  Here are my best tips for traveling with a baby.
Note, this blog post contains affiliate links
Some Background-
My husband and I are seasoned travelers. When we were first married my husband worked for the airlines and so we could travel for free! I so miss those days of spontaneous trips and frequent travel! We used to travel 8-10 times a year, but have cut back in the recent years. We are very comfortable with traveling, but throwing a baby in the mix definitely makes things more interesting/complex.
We have traveled with baby Don twice before this trip. Once when he was two months old and when he was 8 months old- both were driving trips 4-6 hours away. We definitely learned the hard way with those trips and so we applied those things for a successful international trip.
Airplane Tips-
Here is what worked for our 11 month old-
Hotel Tips–
For a work trip when Don was 8 months old, I was able to take him and my husband with me. We stayed in a small room and the only place for the pack and play was in the same room as us. It was miserable because he would see us and not sleep- he was up every hour on the hour and I was exhausted by the end of the trip. Or when he would go to sleep at 8pm we would have to be really quiet in the dark until it was our bed time. So for this trip I was adamant we have the following things in a hotel:
On the Go Tips–

We spent most of our days exploring and here is what worked so we had what we needed when we were on the go: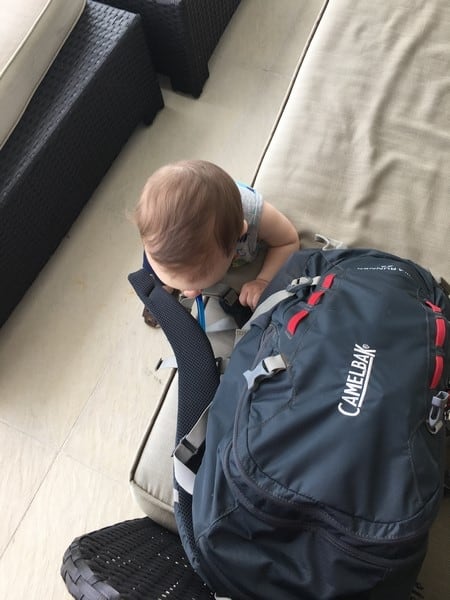 Our trip was so fun and it was a blast just to unwind and spend quality time with my favorite people! One of my favorite travel quotes is "We travel not to escape life, but for life to not escape us." I am pretty sad it is over with, but even though it was a ton of work, I wouldn't trade this last week for the world. Don was a little social butterfly and made friends everywhere. It was fun to see things through his eyes. He has learned to point and would point and stare at birds. I would whisper in his ear what a bird says and he would just grin. Anyway, my trip was amazing and I can't wait to plan the next one! Do you have any travel tips that I didn't include?