Hello! I decided that monthly I would write a little status report on how blogging is going for me. Why? I have realized that I do much better if I am held accountable. I really want to grow this blog and so I think if I post where I am a now and my goals, it will help me stay focused. Plus, sometimes when I talk, um, write things out, it helps me work through my issues and come up with new ideas. So here we are, my September traffic and income report.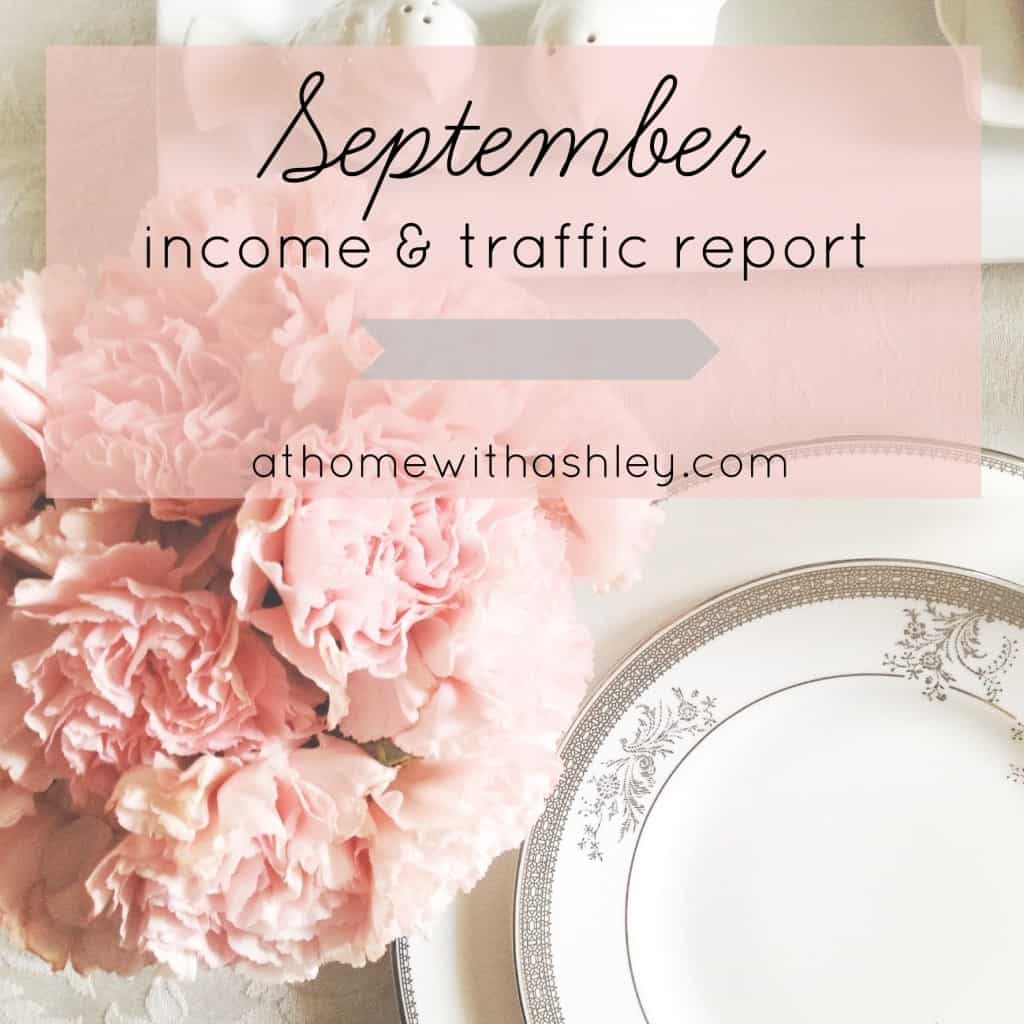 Note, affiliates links are used in this article.
Let's start at the beginning- I started my blog on September 14, 2015. I only briefly talked about why I started on my About Me page, but I figured now would be as good time as any to really delve into it. In February of this year I had my sweet angel baby (I adore him, obviously) and my world was totally changed. My focus was on him 100%. Then my maternity leave was up and I had to go back to work. It was SO hard for me! So hard. I had some anxiety about it (as I am sure many moms do), but I did not want to leave him (even if it is with his dad or grandma). Working has actually been a great thing for me and I love having a creative outlet and 4 days a week when I can not be in mommy mode (even though I love being a mom, having an awesome job that feels like a break is really great). I then read a book that made me realize that I hate that we don't make a ton of money and that I have such potential for more! I have been a long time reader of Pinch of Yum's income report and have recently found Just a Girl and her Blog's income report. They both make a TON of money on their blog (POY made $27,680 in August and Just a Girl and her Blog made $18,000 September- yes, that's for one month). I started thinking "I could do that!" I would love if this blog would one day make money. My goal is by March 14 for it to be making $100 per month. How? Well, right now I have three ways-
Google Ads
Amazon Affiliate
Etsy Affiliate
I would like to expand that to include more affiliates- I think next I will apply to eBay's affiliate program
Eventually, I would also like to offer my own product. Maybe an ebook, maybe classes, maybe interior design or styling contract work. I really love that I have this platform though that opens the door for that!
Another thing I can do is apply to ad networks to see if I can get into them and have more ad revenue.
Income
$3 Amazon Affiliate. Thanks to whoever signed up for a 30 day trial of Prime!
$6.48 Etsy Affiliate
$0.02 Google Adwords (I wish I had that emoji of the laughing/crying smily face- I can only go up from here, right?!)
Expenses
$71.28 One year's worth of website hosting. Includes my domain name (I will have to pay this again next year)
$53.31 Genesis Framework- makes it so I can use the theme on my site(a one time fee)
$50.00 Restored 316 theme- Darling (pretty much why my site is cute- again, this is a one time fee)
So, this month I was in the negative (totally normal for someone's first month of blogging). I don't have any expenses for next month, so things are only looking up! I would love for the income to be at $15 or more next month.
Social Media Following
Instagram- 115
Pinterest- 552
Facebook- 2 likes (ha! Not great)
I am mostly focused on Instagram and Pinterest. By next month I would like to double my Instagram followers (to 230) and figure out how to schedule posts on Pinterest. I can see from the times I pin that my page views go up.
Traffic Overview (this is a screen shot from Google Analytics)
I really need to work on getting my page views up. My 748 page views are great! I would like to get this up to 1000 for next month
Top Traffic Sources
Now you can see why I have been focusing on Pinterest! And need to continue to work on it. P.s. the annoying thing about Instagram is that if someone visits your site from there, it counts as a direct link. So there is no way to see how helpful Instagram is to your traffic. I do know from my work that brands find you on Instagram and having a good following is VERY important, so that is why I focus on it. Plus, it's fun to learn how to create pretty pictures to post. My other page views come from when I comment on other people's blogs and link parties.

I need to work on getting Mail Chimp connected to my blog and doing a newsletter (other blogs get great traffic from sending out emails). Starting a blog was overwhelming and I added on new things as I got the chance. I only started to focus on SEO (search engine optimization) a few posts ago. I hope working on this will help with the organic search portion of the traffic
Goals for October
As a recap, here are my goals for October:
Have Instagram Followers to 230
Learn how to schedule posts on Pinterest
Have 1,000 page views
Connect Mail Chimp to my blog
Make at least $15 on the blog
Thank you for reading the LONGEST post ever- haha! But mostly THANK YOU for reading!!! I have cut my posts back from 5 times a week to 3 times a week. I found that I only had time to write and not create new content, so this way there will be lots of interesting new things for you to read about. I wish I had more time for blogging, but with a full time job and wanting to spend as much time as possible with my baby, I sneak in writing sessions at nights and during naps. I love blogging- it has been great for me! Thanks for visiting 🙂