Raise your hand if you have a pile of jewelry on your night stand or in your bathroom or on your vanity? Or if you don't wear the beautiful pieces you have because they are a disorganized mess? That is how I was and I was really sick of it, so I did two simple updates on a budget to store jewelry. Here's what I came up with-
First up, I just got a few new watches and a gorgeous cuff. I wasn't sure how to store them since I've never many, but after some searching, I found the most beautiful acrylic holder on Amazon for $13! So if you're a watch/cuff/bracelet hoarder like me, I fully recommend this stand because it's modern, inexpensive, and takes your mess and makes it art.

cuff / bracelet/watch stand / brown watch  / navy and white watch / black watch
Secondly, I wasn't happy with my necklace storage. The problem is that I had too much of it and because I had SO much space, I was holding to way too many pieces that I didn't actually use. I loved the old solution I had (I go over how I made it here, but it's a $5 project and SO easy), but I was ready for something new.
dress / pants / bib / moccasins
This time I bought a backless frame from Michael's for $20- it is 16″hx20″w. I didn't love any of the finished options, so I went with a plain one because I figured I could paint it any color I wanted.
white pillow / blue flower pillow / mint throw
I brought it home and painted the frame the same color as my walls. I also bought 12 cup hooks that I screwed into the frame. And there you have it! Instant jewelry storage! This cost me about $22, but you could totally find a thrift store frame and do it for less than $5. Or use something you have on hand for bonus points! Either way, this is an easy, inexpensive option that anyone can do.
Plus it forces you to go though all of your necklaces and ponder if you actually wear it or not. Sometimes I find that giving away things can be hard. If you have the same struggle here's a suggestion for you- use a box that you keep in your closet or some hard to see place for for thrift store donations. When it gets full, donate everything. The beauty of the box it does give you time to decide if you can't live without something.
I am super happy with how it all came together! I really like the simplicity of the necklace display and feel like it lets the necklaces be featured like art.
Since my vanity was clean from the jewelry organization, I created a quick video on how to style a vanity. I have a whole post with more vanity styling tips (including a comprehensive list of items to make your vanity pretty and functional) in case that would be helpful for you.
In conclusion, if you have a jewelry mess, I hope one of these solutions was helpful for you! If you're a watch/bracelet lover, check out the watch stand. If you are into necklaces, the frame solution above is a gorgeous way to display your special pieces. I know that if you easily can see what you own, that means that you'll wear it more often!
dress / clock / book imperfect house / book shabby chic
If you're in the market for new jewelry, I wanted to tell you about Leighelena– they sell the prettiest bracelets and cuffs. It's where I got my snakeskin cuff. I love the jigsaw design and that it's hand made in Austin, Texas. Where is your favorite place to get jewelry?
Shop this post:
p.s. want a free course on how to style your accessories to look amazing? Click below to get your free ecourse!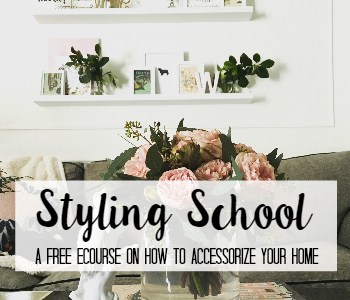 This post contains some affiliate links for your convenience. Click here to read my full disclosure policy.
This post was sponsored by Leighelena