step seven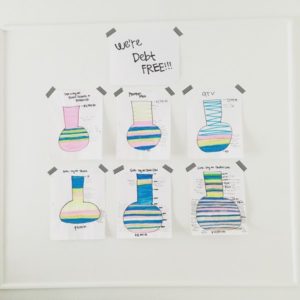 I created a free printable of a debt thermometer. Just print it on printer paper and fill out your debt and how much you owe. Every time you put money towards this debt, draw in a line and color it so you can see how far you have come. Visual progress is so motivating! I wish I had made this for myself instead of the hand drawn sloppy ones I did 🙂 (image above of the ones I made. The below is the free printable- its not that fancy, but it is symmetrical and the perfect blank slate for you to make your mark on).
step eight
I followed Dave Ramsey's baby steps and they were SO helpful to me. Before getting rid of any debt (besides your minimum payments) he suggests saving up $1000 as an emergency fund. I love having a road map to eventual wealth and giving. My dream is that I can give more and make a difference in the world- that is my big goal. I made a free printable of the baby steps too.
To get both of these emailed immediately to you, just put in in your email and name below
conclusion
So now you have 8 steps to start you down the path to financial freedom and two printables to assist. You can do it! Start today and little by little, you'll get there! Getting out of debt was a life changing process and has allowed me to now have more freedom- I was able to cut back at work when I had my baby and I have more in my budget for travel and decorating. What would you do if you had no debt and extra money? If you have any questions, please comment below.

You may also be interested in:
How I Paid off over $40,000 in Debt
My Debt Free Party