I have been planning a photo shoot for work (I do the styling for the furniture company I work for). I was on Pinterest getting ideas for styling and noticed the same elements over and over again. This gave me two insights- number one that it is easy to get a beautifully put together coffee table and, number two, my coffee table was failing. It was just super simple. Here's a reminder of the before:
Not terrible, but not great. Here is what I learned from my research:
Follow At Home with Ashley's board Coffee Table Styling on Pinterest.
Elements to successful coffee table styling–
1.       Tray or Bowl
2.       Books (topped with a decorative object)
3.       Fresh Flowers/Greenary
4.       Layered in Objects- hourglass, magnifying glass, candles, box, match boxes
5.       Add in something quirky/organic- coral, a ceramic/brass animal,  anything sculptural that adds texture and personality
6.       Make sure you have height- candle sticks, hurricane vase, tall greenary (but not anything too tall that will block the view of your guests and/or the TV)
Putting it all Together
I spent last week buying a few items to better fill in my coffee table. First of all, I bought tray from the Down East Home clearance center. It was $5. It had a name on it, but it peeled off so easily. I felt like I got a major score, because to buy the same tray from West Elm is $34! (here is a picture of the tray with the name on it)
I gathered all of my props in one space. I used the faux roses and two coffee table books I already owned. With those, I added an elephant and little ceramic box I got from Down East Home and a candle from Target (on sale for $4).
The Props:
The After: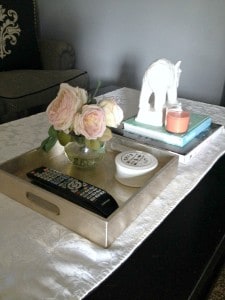 Much better, right?! At the very minimum, much more personality! I love that elephant! And I love the addition of color and scent. Now I just need to find some pretty matches (harder said than done). So that is how I re-decorated my coffee table. It is nice to come home and not see the same old, same old. And now you have the tools to do the same :)!