step two- paint
Add in dots of paint. You can choose any colors, I just used paint we had on hand that will match Don's nursery. If you don't have paint on hand, you can get a few bottles for super cheap from the craft store. Or I love this set of 18 paints here. The set will last you forever and you get to shop from your couch #winning
step three- cover
Cover very well with plastic wrap or put in a zip lock bag (this makes for a mess-free, aka no paint on baby's hands  project- yay!).
step four- play time
Let your baby squish the paint and play with spreading the colors. Take too many pictures because your baby is adorable :). My sister later gave me the tip to put food on top of the painting so that baby will be more interested in the playing with the paint. You can see him losing interest in this video (I only thought to take a video after his fun was had, but it's still cute, so I thought I'd share):
step five- let dry
Remove the plastic and let the paint dry. I later added his name and the date to the back.
step six- add a quote
I love the way it turned out and decided to buy some silver craft paint and add a quote on top. I thought it would be fun to "collaborate" on an art project together. Side note, I was telling my sister about this idea and she told me about the Mischievous Mommy blog where the mom and 3 year old create gorgeous art together and I was so inspired. So if you like this idea, check out her blog for a more in-depth art mom/child experience. Isn't that such a fun idea?!
We hung the canvas in the baby's room. I think he will like his first piece of art! Isn't it fun?! I'm pretty happy with it :). I choose this quote from one of my favorite children's books. I remember my mom reading it to me when I was little and wondered why she was crying. On my first day back to work after my maternity leave, I read Don this book and just sobbed through it- haha. I feel a little like a smother with this quote (anyone watch the Goldbergs?!), but it's sentimental and I do want him to know that I will always love him no matter what.
other ideas
You could paint your baby's name on it or find a quote of your own that means something to you! Pro tip- google image the quote you love and then you can be inspired by the way other's penned it. Use a pencil to test out first and then cover up with paint.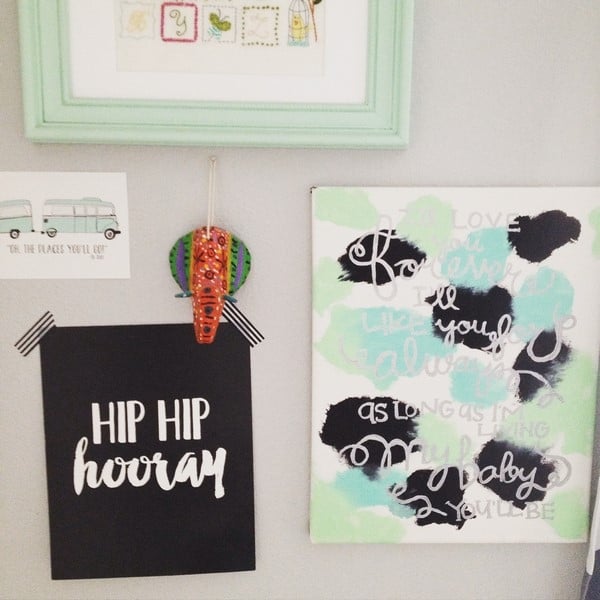 The inspiration for this project is found here
other sensory activity ideas
We also did a few other sensory activities. I will link to my inspiration below, but all are found on my Pinterest board Follow At Home with Ashley's board Don on Pinterest.
We played in noodles. The baby was a little grossed out (which was pretty funny). The dogs thought this was a big treat so next time I will do this in the high chair. Inspiration found here
I added food coloring to baby Greek yogurt and let him play. Mostly he ate it (he loved the yogurt!) and the made a huge mess. Inspiration found here
Just a note, with any edible sensory activities, you'll want to wait until your baby is eating solids (at least 6 months old).
conclusion
In conclusion, it's super easy to create beautiful home decor for your home with your baby! Just grab a canvas, paint, and let baby have fun! Finish with a customized quote and hang on the wall. Thank you for stopping by my blog! If you create art with your baby, I'd love to see it! Show me on Instagram by tagging @athomewithashley
Shop this post:
[show_shopthepost_widget id="2452908″]



p.s. want a set of my three (super popular) home decor printables?! They're FREE when you sign up below!