This post contains some affiliate links for your convenience. This post was sponsored by We are Knitters and all opinions are my own.  Click here to read my full disclosure policy.
Confession- I love Elsie from A Beautiful Mess she is totally my girl crush! These are pictures from her home and her taste is flawless. Plus, she uses pink in her decorating, which I (obviously) love! Do you know what one of her decorating secrets is? Adding texture in- the fur pillows, the woven wall hanging, the sisal rug, the trim on the curtains- it all works together to make it interesting! A big trend I've been seeing lately is adding texture with yarn or knit items. This adds a bit of a 70's vibe in an updated, modern way. Here are some of my favorites that you can buy right now:
ONE- Macrame wall hanging. You can use this as a window covering OR on your wall. Think how pretty the shadows would be in your room if you had that on your wall!
TWO- Macrame plant hanging. Hanging plants is a big look right now- and I love it! Nothing warms up your walls more than a plant with a pretty holder. Bonus points for the ombre pink!
THREE- Macrame headboard. A great way to decorate on a budget is to buy a headboard and use it with a metal frame. This one will add some gorgeous texture and pattern to your space.
FOUR- Wall hanging. This wall hanging is from Anthropologie and I love it! It is also around $60- so pretty affordable! Isn't all of that fringe just beautiful?! I think the neutral color would look great in a bunch of rooms.
FIVE- Textured Pillow. Here's another neutral beauty that adds texture with the tassels and pattern. I really love the subtle gold details too.
SIX- More Textured Pillows. These pillows are also from Anthropologie but add in some fun colors! If you're just wanting to experiment with color, these would be the perfect starting point! Pillows are the perfect low commitment way to see if you like a certain color or texture in your home.
SEVEN- Chunky knit throw. Ok guys, I am so excited because I have one of these chunky knit throws on their way to me! I love how soft and cuddly this look is, plus that oversized yarn used is so fun! #obsessed
EIGHT- Crochet doily rug. Last, this doily rug that I found on Etsy are a freaking dream. Texture, check. Girly charm, check. Handmade, check. Cozy, double check. Pretty much a dream rug!
Because I love having knit items so much, I decided to make a few things for my house. So if DIY is your thing, you will love these projects!
First up, I made my own macrame plant hanging! I got the Casia plant hanger kit from We are Knitters. That was super nice because it came with the yarn, beads, and hoop to hang it plus the pattern (yay for one stop shopping!). Every night for a few weeks I pulled out my macrame while my husband and I watched our evening show. It was super easy to do and actually really relaxing. Did you know that there are health benefits to knitting?! There's a whole New York Times article on it. Here are my favorite benefits of knitting from that article: 
Isn't that cool that you can make something and it can help your health?! I love that! After a few days of working on my macrame, it was done. I hung the planter over my dresser and it looked so good! I choose a poppy pink color and love how it looks with the abstract art.
I continued my knitting with the Rotterdam basket. This was a little more advanced, but I was so excited when it was finally complete! I've been needing a blanket to hold my throws in, and I love that this one has some great texture to add interest to my space.
Mongolian wool pillow / pink pillow / gold vase / art / pink throw
It's made of two yarn colors so you can really customize it to your space. So what do you think? Do you have any knit items in your house? Would you add them?

p.s. want a free course on how to style your accessories to look amazing? Click below to get your free ecourse!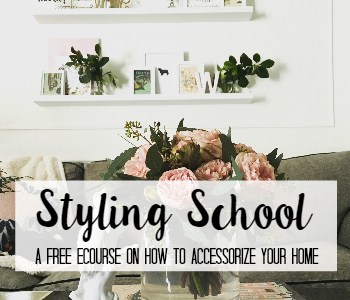 This post contains some affiliate links for your convenience. This post was sponsored by We are Knitters and all opinions are my own.  Click here to read my full disclosure policy.