Hi everyone! I finally put the finally touches on my picture frame molding and can't wait to show it to you! It was a lengthy process, so I am splitting it into two posts. Check back on Friday for the "afters"!
Here we go! How to install picture molding- part 1
First of all, picture frame molding is when you have boxes of trim above and below your chair molding. It's a very classic/traditional wall treatment that I've always wanted in my home. I've been seeing it lately (check out the latest Pottery Barn catalog or Kate Spade's home collection) which gave me the push to finally get it done!
Step 1- make a plan. I carefully measured and decided how to space the trim. The blogs I read suggested 4-5″ between trim, but I ended up doing 8″ from the ceiling and baseboards so that I would be just above all of the outlets (going below them would have been 1″ above the baseboards and I didn't want to have to make extra cuts to go around them). I also wanted to leave space for the option of crown molding in the future. I did 6″ between the rest of the trim and that helped me avoid 2 light switches. Honestly, the closer your trim is together, the better it will look. I am happy I didn't have more cuts to make, but closer would have looked just a little better. The next decision was how big of boxes to do on my main wall (all other walls have one big box). I ended up doing three boxes of trim with the biggest one in the middle sized perfectly to frame my console table. I quickly drew up a plan which became my reference as I made cuts. It was indispensable!
Step 2- decide how much trim to purchase. I added up all of the pieces of trim I needed and brought that length with me to Home Depot. I didn't buy much extra, but my husband later informed I should have purchased 10% extra. So do that 🙂
Step 3- buy your trim. My baby and I headed to Home Depot bright and early one morning. I wasn't as diligent with this trip and had NO clue what I was going to buy. I ended up getting the cheapest wood option they had- it was $0.57 per linear food and is a base shoe molding. They came in 16′ lengths which was hilarious to cart around with my baby. Even with buying the cheapest option, it was $102.00 for the trim for one room (a bit more than I hoped to spend).
Step 4-tools. After I installed my chair molding I threw all of my tools into a hamper and shoved them into my closet since I knew the next weekend I would need them all again. I love myself for doing this! Here's the list of tools I used:
Picture Molding (I bought 11 of the 16′ size)
Level
Blue Painter's Tape
Hammer
Finish Nails
Miter Block
Tape Measure
Caulk
Liquid Nails
Caulking Gun
Wood Filler
Sand Paper
Paint Brush
Paint
Paint Stirrer
Drill
Drill Bits
Hack Saw
Drop Cloth
Plans
Nail Setter
Wet rag
Step 4- prep your walls. I took out my level, pencil and plans and drew onto the wall where they would go. This step is vital if you and hanging with just a hammer since you only have one hand to get it level and can't use the level as you go. I then added blue painter's tape to the wall so that as I was installing, I could easily tape up the trim to hold it in place.

Step 5- figure out the inside and outside of your trim. So, I thought I had done enough research before starting this project, but I was wrong. I started cutting, installed 4 pieces and then saw I was doing it wrong!!! It was the worst! I wanted to give up at a few points in this project and this was one of them. So here is what I was doing wrong so that you can do it right- if your trim isn't symmetrical, you have to choose which part of the board is the outside and which part is the inside and be consistent. This means that you will have more waste because you'll have to cut off a little bit of trim to start your angle correctly. As soon as you figure this out and get in the rhythm of changing the direction of your 45 degree angle cut with every cut, it's easy again. But don't say I didn't warn you- haha! Chair molding is easy peasy compared to this.
Step 6- start cutting! Now you are ready to cut! I started with the two top boxes on my biggest wall. I cut all four pieces of each box. Because the heights and lengths were the same on both boxes, I would line up the pieces of trim and the two pieces that were most similar went on the same box.
Step 7- installation time. Now that you have some pieces cut, start putting them. I reccommend not cutting too far in advance just to make sure you are doing it correctly. Once you have it right, you can put it up! I pre-drilled a few holes, added some liquid nails, and then nailed it up.
Step 8- installing the last corner. As I hammered up the trim and got to the last corner, I wouldn't nail in the last part of both pieces of trim that were meeting up to create the last corner. That gave me flexibility to push them together so they would fit snugly. They might have gotten a tiny bit off level, but the seam was perfect and I couldn't tell with my eye when I was done if it wasn't perfectly level.
This was where I was at after one long day. I was happy I had gotten it right, but discouraged that it was taking so long! I went to dinner with my extended family and told them how ridiculous I felt- sawing away with a hack saw, hand nailing it in. I was getting it done, but slowly. And then they made fun of me (in good spirit, of course) and reminded me that my dad owns an electric miter saw and a nail gun. Lol (forhead smack)!!! So I borrowed them. I want to pause here and say that with $50 in tools you can do this project, but it will be a bit slow. Or with $500 in tools it will be much faster. This is a project anyone can do, but better tools does make it faster. The next day I put the saw and nail gun to use and got the rest of the pieces installed!
Here is what I did differently with power tools:
Saw- I wore safety goggles and with every cut I asked myself "am I going to cut my fingers off?" Haha! But seriously, I went slow with the cuts so they were clean and made sure to be safe. Trim isn't worth a trip to the hospital.
Nail gun- I quit using liquid nails adhesive to back my trim. Because the nail gun buries the nail (and I don't have to use a nail setter with each nail, thus using nails sparingly), I used many more nails and go the trim flush with the wall this way. I also quit taping the trim to the wall since I had enough nails to secure it easily.
Level- on the second and third walls that I hadn't prepped, I used a level to draw out the beginning of the square and then used the level and nail gun as I went to install the trim. This was much faster!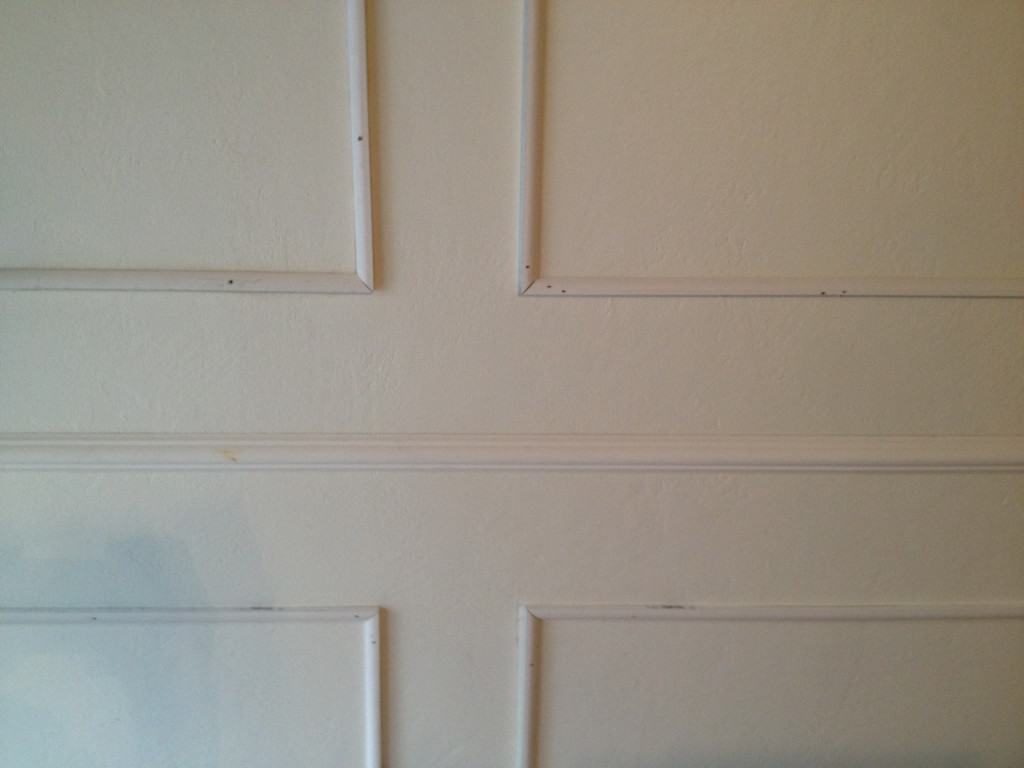 Alright, check back on Friday for the after! It is worth your time, I promise :). Lastly, I want to remind you that you can do it! This is a hard project, but if  you want it, you can do it! Best of luck.