Last time, you visited this is how the front door was looking. It's not 100% obvious but up close it was messy- a dirty door and unpainted trim. So I pulled out my caulk and filled in all of the nail holes and seams.
Then I gave the door a good cleaning. Plus I hosed the whole front entry off. It was surprising to me how dirty everything was! I mean it's outside and I never clean it, but I was still surprised- haha.
please note, this post includes affiliate links. I only share links to items I love and think you would love too. I make a tiny commission when you buy something after you click on my link. It costs you nothing but is a great way to support my blog- thank you!
Last, I pulled out my trusty white paint (Delicate White by Olympic) and gave it a good painting. Up to this point I had everything on hand so this was a FREE project. Yay! But even if you needed to buy trim and a sample pot of paint, this would be a $15 project. I wanted to take this project to the next level and I researched a TON of hardware options (I loved this article about stylish hardware). I was really in love with the option of changing out the hardware for antique brass. Ultimately, I decided against it. Here's why I didn't do it:
It's expensive. Even the cheaper options would have been around $100
It's a pain. My family and Preston's family all have a spare key. I tend to lock myself out of my house 🙂 so changing all of our spares would have been not fun
The domino effect. My whole house has nickel hardware and I don't really want to go to the expense to change everything. It's fine how it is.
So I left it. Instead, I made some budget friendly changes.
I updated the doormat to this one from Target. I really love it! Plus it was on sale for $12. I thought hard about painting my own. I was planning on it, but a blank doormat is $10 plus supplies. So I figured I should get one I loved and save myself some time. Plus, who knows how long a DIY option lasts?
I added a hydrangea wreath from Target ($24). Evidently, I shopped late in the season for a non-fall wreath so I was really happy to find this one! It was a little expensive, but I really love it. The last wreath I had up was too big and this one feels sweet and cozy. I already had that doorknocker (it's from Pottery Barn).
Last I added a potted plant! The pot (which I am in love with!) is from Joanns and was on clearance for 70% off so I got it for $7- such a steal (and no longer available online- so sorry). I filled it with pink plants from Home Depot- $11. As a recap, here are my tips on how to update your front porch for $50:
Let's check out the before and after: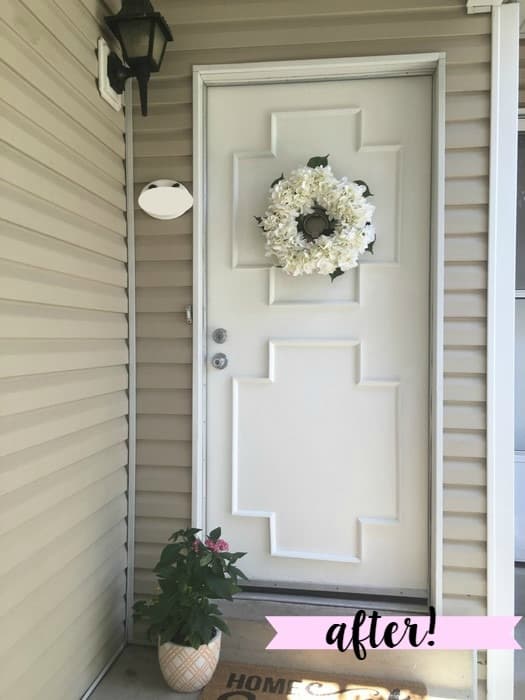 And some more pretty pictures 🙂
my maxi skirt and crop top are from Pink Blush
So there you have it! I now have a front door that I love! I think it gives a good sneak peek for what the house is like and it just feels so fresh and clean. I spent $56 on the whole thing and am just thrilled with it.
If you are just tuning in, here are some posts about the door you might want to check out:
how to update a door with molding
Sources:
White Paint (Lowes)

p.s. want a free course on how to style your accessories to look amazing? Click below to get your free ecourse!