Quartz Counter tops- what you need to know
Hello! We are in full on renovation mode at my house! Here's a glimpse into what our kitchen looks like right this second:
All of the upper cabinets are gone and so are the soffits that were above them (you can see the before photos here). the right base cabinets are gone and so all that I have left of a working kitchen is base cabinets, a sink, and a dishwasher. Since the ceiling needed to be patched where the soffits were, we put up a bead board ceiling. It still needs to be caulked and painted, but we are happy with how it works. A few of the base cabinets are in. Delivery of our new stove should be here soon. The base cabinets are built for the right side of the kitchen, but we are waiting for right before the counter tops are measured for before tearing those out so we can function in the kitchen as long as possible.
Some fun items have started arriving for our kitchen- like this art from Minted!
It is officially time to select the counter tops and since I have been surprised by some of the process, I thought you'd like to hear about it in case you are ever ready to add new counter tops to your house.
what is quartz?
Forever, I have been obsessed with having marble- that grey look with the beautiful veins. I'd daydream about it, but the thing I didn't like is that it is super sensitive, can stain and chip easily, and so  you have to be very careful with it. That's now how I want to live, so when I heard of quartz, I was excited! So what is quartz?
Quartz countertops are man-made engineered stone countertops formed by combining 90% ground quartz (a natural hard mineral) with 8-10% resins, polymers, and pigments. This forms a very hard granite-like surface. The appearance depends on how the quartz is ground: coarsely ground quartz produces a flecked appearance, while finely ground quartz produces a smooth look."
what does it look like?
Quartz looks like a natural stone. The beauty of it is that it comes in a variety of neutral colors- beige, black, grey, or white. It can look like marble (what I love!) or it can look like granite, it can also stand on its own and look like a composite. Here are the colors that Arizona Tile offers so you have a good visual:
what is the maintenance on quartz? What should I avoid putting on it?
Clean with mild soap, water, and a soft cloth.
Wipe up stains immediately before they have a chance to dry.
For dried spills or heavy stains, use window cleaner and a soft sponge.
Exposure to heat above 300 degrees can cause the quartz to crack. Always use a hot pad or trivet on your counter tops with pots and pans and Crock pots.
Candles can also cause pitting, so put something underneath those too.
Knifes will scratch quartz, so always use a cutting board.
Quartz does not require sealing in order to resist stains.
how much does it cost?
Quartz costs $60-$80 per square foot (that includes the stone and installation). You can get it cheaper if you have a smaller kitchen and can use a remnant. For us, we are doing some collaborating for our counter tops so I didn't pay full retail (just wanted to give you full disclosure 🙂 ). The cheapest price I could find for our 17 square foot counters without any media trades was $971 with a remnant. Without a remnant, it was around $1100.
installation process
Here's the process to get your counter tops installed-
Find an installer
You can google "quartz + your city" and you should be able to find a good variety. Our installer is Bedrock Quartz
get some quotes
I am on a budget for this kitchen renovations, so before I selected anyone or left my house, I emailed 3 quartz providers. I got a quote from each of them. It helped that I knew I wanted a marble looking quartz so they could give me their best price over email and then I could visit to confirm everything. Note- you'll need an electronic copy of your kitchen for this step. Ikea provides one with their kitchen planner service so that was simple to email over.
Go visit them and look at what they offer
They will usually have a good variety on hand and its important to see the stone in person. Bring your kitchen plan so that the fabricator can give you suggestions.
we're getting the quartz on the left- New Cararra!
if needed, see a slab yard
If your fabricator doesn't have enough variety, you can also visit a slab yard (where your fabricator buys the slabs from at a discount). We are going with Arizona Tile to supply the slab. They have a HUGE variety and offer tile too (we got our subway tile from them!)
picture via Arizona Tile's website
Add-ons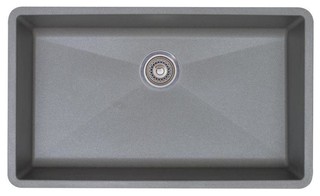 Your fabricator will do an awesome job on educating you on upkeep and you will choose an edge for your countertops (we're going with miter- the most popular). You can also select a sink and a faucet if you need one. We already had a faucet, but choose a sink with
Bedrock Quartz
called
Blanco Super Undermount single bowl sink
in metallic grey. We love that its made of a granite composite and is nice and big (is Don too old for sink baths?!). If you are in Utah, check out the Layton showroom- I worked with Li and she is amazing!
Template
Next you will schedule a time for a template to be made for your counter tops. Your quartz fabricator will send someone to your house to digitally measure for this. What this means is there is super fun (haha) part in your renovation where you have to have your base cabinets in without a sink and counter tops for 1-2 weeks. We are officially at the phase and it's not the funnest to live with! Let's just say we're eating off paper plates around here.
Installation
A week or so after your template has been made, your counter tops will be cut to size and the they will be delivered and installed- cue the happy dance!!!
I will update this post after our counter tops are in for extra tips on the template and installation phase. Hopefully that helps you understand the whole process and make it feel less overwhelming! To say I'm thrilled for fancy countertops is an understatement! I just believe that your home should be a beautiful backdrop for the story of your family's lives. I was sick of my dingy, broken, hard to use kitchen. Living in a renovating mess isn't fun, but making your dreams come true is. You've got this 🙂
p.s. this is the 3rd post for the One Room Challenge. What that means is that you'll see two more renovating posts and then we will have a final reveal!!! If you want to follow along closer, I am sharing the everyday updates on my Insta Story.
Just joining us? Catch up on my renovation!
The inspiration and why I was scared to start this HUGE project
How I prepped my house for the kitchen renovation
I got my cabinets from Ikea. Here's how that came together
p.s. want a free course on how to style your accessories to look amazing? Click below to get your free ecourse!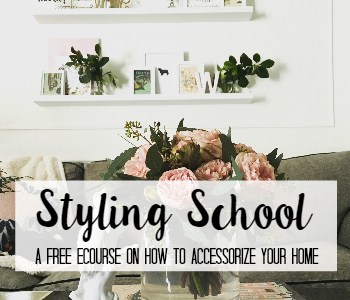 This post contains some affiliate links for your convenience. Click here to read my full disclosure policy.