Do you have old outdoor furniture that functions perfectly well but is ugly? That you'd hate to throw away, but aren't sure how to update? I am going to share how to update old patio furniture. These tips will help you with any patio furniture update!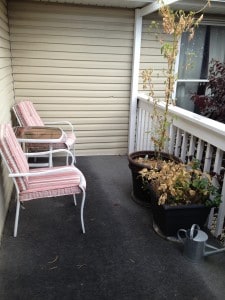 tools
paint
Step one is paint. Paint is the cheapest way to upgrade the look on anything. We bought outdoor quality spray paint and gave the whole set a face lift.
recover your cushions
If you have cushions on your outdoor furniture, getting new covers will give your set a new look. There are TONS of adorable outdoor fabric options so you have the opportunity to show your personality. I use this gorgeous black and white striped outdoor fabric from Amazon. If you know how to sew, you can easily make them yourself! I show you how here. If you don't know how to sew, you can hire someone on Etsy to make them for you.
add outdoor pillows
I also made the pillows that was a super easy project (more details here). If you'd like to buy ready-made outdoor pillow covers, there are lots of great options on Etsy and Amazon. Here is an outdoor pillow cover made of the same fabric that I used. Just fill with a pillow insert.
update glass top tables
There was one thing left though, the amber colored glass in the end table. I have always hated the glass because it never is clean! You spill one drop of water and it looks awful- which is super impractical for outdoor furniture. So I thought and thought about how I could cover it. I thought about tiling it with pennies or tile. I thought about painting the glass of covering it with contact paper. And then I saw this pin and I knew we had a winner!
keep reading to see how we updated our patio furniture!