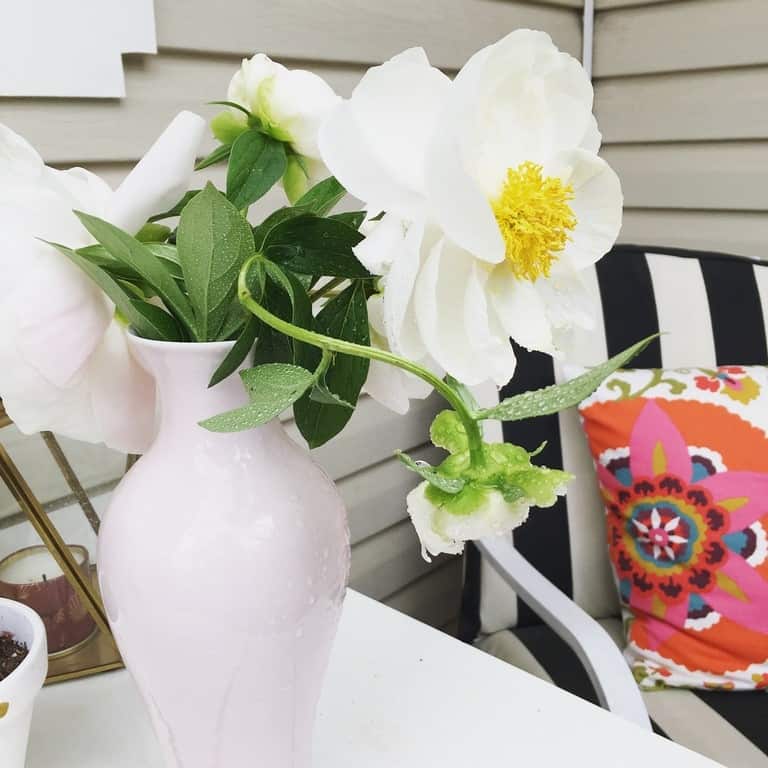 Hi friends! I thought I would wrap up the deck posts with a round-up of the resources and the budget. As you can see from above, my peony plant finally bloomed and I have been treasuring these gorgeous blooms!!!
Flooring: $183 This was by far the largest expense of the project. But with a rotting sub-floor and paint covered carpet– it had to be done.
Wood base $32
Carpet & Glue $100
Rug $51
Art: $8 I did this project by using items I already had on hand. I'm excited for the moss to grow in, then it's going to look super cool!
Pillows: $19 I think that is a great price for two outdoor pillows! If I would have already have had the pillow inserts, it would have been even cheaper! I made them in less than 30 minutes and saved a TON of money DIYing them.
Fabric: $5 (via Hobby Lobby- I couldn't find it online)
Pillow Inserts: $14
Lighting: $94 A new sconce and overhead lighting really pulled the space together. This was another big expense, but one of the biggest impacts to ambiance.
Wall Sconce $50
Black Cord for Globe lights $8
Globe lights $36
Table Top: $14.50 I love my new white table top! I used wood to construct a new top. Its an updated look and is much prettier than the old amber glass. I love that for less than $15 I could create a new look with more function.
Wood $11
Liquid Nails $3.50
Accessories: $31.50 I added a few accessories to create a layered look. The lantern I got with birthday money because who doesn't need an excuse to go to Anthropologie?! I used my birthday discount card on that one. The flamingos were frivolous, but at $6.50 they didn't break the bank.
Lantern $25
Flamingos $6.50
Plants: $35.50 We had a bunch of plants on hand, but added some more and love how lush and green it is out there right now! I tried to keep costs down by using inexpensive pots. I used a terracotta one and painted it white and added gold polka dots. I found another one (the rope one on the table) at a clearance store for $3!
Mosquito plant $6.50
Clear Saucers for under large planters $4
Pot (for cactus) $1.50
Metallic Paint (for potted cactus) $1
Succulent $7.50 (Home Depot)
Pansies $12
Rope pot $3
Total: $385.50 So there you have it! I'll be honest, when I saw that number I thought "that's a lot of money!" And it is, but it is the project we have been working on since the beginning of The biggest things I did to stay on budget were to make it myself and shop sales. We sure love this space and spending all of our time in it! That officially wraps up my deck posts, thanks for joining on my journey :). Now what to renovate next?!

If you missed any of the past deck posts, here is the deck plan
and here is the first week's progress (and embarrassing mistakes)
The pillow and rug reveal
The lighting I did on a budget
I DIYed a play kitchen for the Deck out of a thrift store piece of furniture
My tips for how you can style your outdoor space (and a sneak peek of the accessories I am using)
How I updated the glass table
A run down on how I created outdoor art and hung it from my siding without putting holes in it
And the final reveal!
Thanks for following along!
p.s. want a free course on how to style your accessories to look amazing? Click below to get your free ebook!