Today I have a fun blog post for you- it's the day we have all been waiting for! Dining room reveal day! Let's back up to a before photo:
BEFORE
This is from when I started my blog 2 years ago:

Here's what it looked like about a month ago:
As a recap, I've shared the mood board, wallpaper installation, reupholstering the chairs and the new art and rug.
To finish up the project, I updated my chandelier. Honestly, it was actually a bittersweet change. About 8 years ago I was working as a wedding planner. One of my favorite brides of all time had a big wedding and gave me a generous tip for being a part of her big day. With that tip I bought myself a chandelier.
I loved that black chandelier for years. But my tastes shifted and changed with time (as most people's do). Plus, with the kitchen update, it left the dining room looking a little dated and sad. So I sold it and found the perfect replacement from Overstock! The Armstrong Brass Chandelier:
When we got the package, my husband and I were so excited to install it! We made the super fun mistake of unboxing it in front of my son. Don is 2 and loves to throw everything in the garbage. I'm sure you can see where this is going, but Don moved some of the pieces and we searched for at least an hour to find them. We were shifting through the garbage, looking under the sofa- the whole nine yards. Finally, we found it shoved into one of the light sockets!
AFTER
We put the chandelier up and love it! I added fancy Edison bulbs and it was the perfect finishing touch!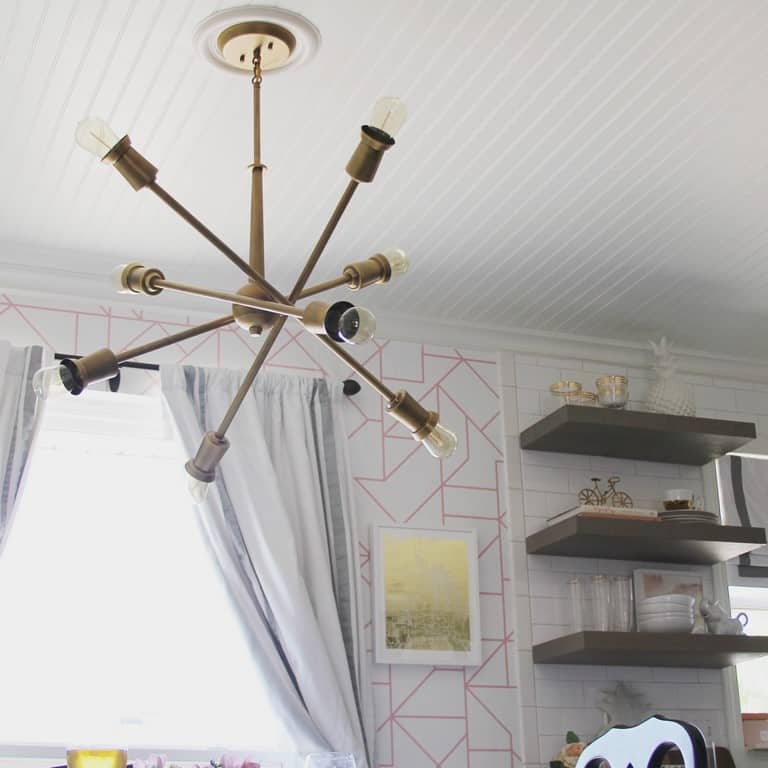 It is a Sputnik style chandelier. These first originated in the 1960's during the space age. They are most common in mid-century modern rooms, but I love the edge they give my classic dining room! (you can read more about them here)
I love how it looks from the different angles in the dining room!
The chandelier is one of the first things you see when you enter our condo and I love what a beautiful focal point it is!
I wanted to share with you a fun gif of the how the whole room came together:
And as a recap- a before and after image
We had a mini dinner party to celebrate that the room is FINISHED! Now I need a new space to redo- the living room still needs a few things and the laundry room is scary. I also need to do my bathroom, but I'm saving that for October. Let me know what you'd like to see next in the comments.
table runner and napkins from Minted
Small announcement- for the month of August I will be hosting a cleaning challenge! Check back on Monday for a free cleaning schedule printable and full details.





Chandelier provided c/o Overstock.com. This post contains some affiliate links for your convenience. Click here to read my full disclosure policy.